2" Hayward Actuator Ready BYV Series PVC Butterfly Valve, EPDM
Main image
Click to view image in fullscreen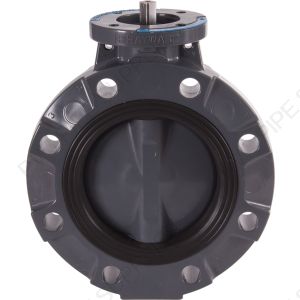 2" Hayward Actuator Ready BYV Series PVC Butterfly Valve, EPDM
Details
Hayward's BYV Series incorporates the most advanced thermoplastic design and construction for butterfly valves in the industry today. Available in multiple thermoplastic materials from sizes 2? through 12" / DN50 - 300, the BYV Series has an extremely robust 1-piece body construction while lighter weight than metal valves of equal size.
The revolutionary hand lever features a 72 spline interlock mechanism allowing for 19 stopping positions at every 5°. The engineered hand lever material incorporates an UV inhibitor for enhanced performance in outdoor applications. The BYV also features reinforced lug holes and can be ordered with overmolded 316 stainless steel lugs for dead end service or isolation needs. The BYV Series is available in ANSI150 and DIN/EN PN10 flange patterns, with a pressure rating of 150 PSI / 10 Bar at 70°F non-shock across all sizes and materials.
Additional options include overmolded or field installable 316 stainless steel lugs, gear operators, pneumatic or electric actuators, manual limit switches, stem extensions, 2? square operating nut and chain operator for gear boxes.
Additional Information
| | |
| --- | --- |
| MPN | BYV14020A0EK000 |
| Inventory Type | DS |
| Manufacturer | Hayward |
| Type | Butterfly Valve |
| Manufacturer Warranty | 2 Year Warranty |
| Valve Type | Actuator Ready Butterfly Valve |
| Valve Size | 2" |
| Material | PVC |
| Disc Material | PP |
| Seal Material | EPDM |
| Liner Material | EPDM |
| Stem Material | 316 Stainless Steel |
| Max Pressure | 150 PSI (10.3 bar) @ 70˚F (21˚C) |
| Carton Qty | 1 |
| UPC Code | 610377255424 |
| Color | Gray |
| Ratings & Standards | NSF/ANSI 61 |
| Installation Manual | Hayward BYV14020A0EK000 Installation Manual |
| Technical Data | Hayward BYV14020A0EK000 Technical Data |
| Dimensions Image | |