2" x 5' Schedule 80 PVC Pipe
Main image
Click to view image in fullscreen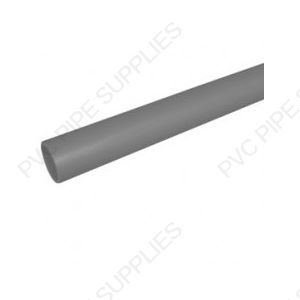 This product has quantity limits:
Minimum quantity of 2
Quantity increment of 2
Details
CPVC is similar to PVC, but is treated with chlorine to create a material that is highly resistant to heat, acids, alkalis, alcohols, and many other corrosive materials. Our Corzan® CPVC compound also has impressive fire resistant qualities-meaning it is very difficult to ignite. This may be useful in applications that require ignited heat sources or in situations that are prone to fire. The wide range of joining options that include solvent welding, threaded and mechanical connections make it ideal for easy, error free installations.
Our Schedule 80 CPVC pipes and fittings exhibit exceptional quality that you've come to expect from GF Harvel and are simultaneously light, flexible, tough, and have exceptionally corrosion resistance. With CPVC's ability to withstand higher temperatures than PVC, CPVC is used in applications where the temperatures may reach 200°F (93°C) and can typically be found in numerous applications including chemical delivery systems, hot and cold potable water distribution systems, chemical processing systems, corrosive waste systems, and vacuum lines. GF Harvel also offers various pipe end options including: belled end, gasketed, roll grooved, and threaded as well as custom dimensions and lengths.
Schedule 80 CPVC is light gray in color and is more resistant to crushing and puncture than Schedule 40 CPVC pipe. GF Harvel's Schedule 80 CPVC pipes also maintain the CSA (Canadian Standards Association) B137.6 approval for sizes 1-1/2" – 2-1/2" only.
Additional Information
| | |
| --- | --- |
| MPN | H0800200PG1000 |
| Inventory Type | DS |
| Manufacturer | Georg Fischer |
| Type | Schedule 80 Pipe |
| Schedule | Schedule 80 |
| a unit of measure | / 5' pipe |
| Size (in.) | 2 |
| Length (ft.) | 5 |
| Wall Thickness (in.) | 0.218 |
| Inner Diameter (in.) | 1.913 |
| Outer Diamter (in.) | 2.375 |
| Material | PVC |
| Max Pressure | 400 PSI |
| Color | Gray |
| Ratings & Standards | ASTM D1784, NSF Approved |