2" x 20' Plain End Schedule 80 PVC Pipe
Main image
Click to view image in fullscreen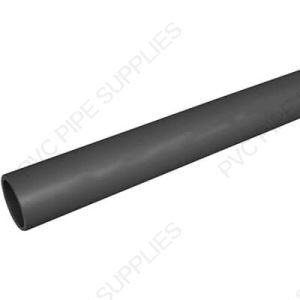 Please consider 10' or 5' pipe for an instant and cheaper shipping rate.
Details
Polyvinyl chloride (PVC) is one of the most broadly used thermoplastic materials, common to many industries. PVC is highly resistant to acids, alkalis, alcohols, and many other corrosive materials. The wide range of joining options that include solvent welding, threaded and mechanical connections make it ideal for easy, error free installations. GF Harvel Schedule 80 PVC systems are light, tough and provide exceptional corrosion resistance for applications with operating temperatures up to 140?F (60?C).
GF Harvel PVC Schedule 80 pipe and fittings exhibit consistent quality with uniform properties. GF Harvel uses its own custom blends of PVC compounds to offer you two pipe brand choices to ensure that desirable physical properties are maintained for various applications. GF Harvel's Industrial PLUS brand exhibits exceptional quality you've come to expect from GF Harvel, including CSA (Canadian Standards Association) B137.3 approval and uniform physical properties; making it the preferred choice of fabricators and custom houses. For customers who do not require CSA or fabrication grade pipe, you can choose to use our Industrial brand. Schedule 80 PVC is gray in color and is more resistant to crushing and puncture than Schedule 40 PVC pipe and fittings.
Both GF Harvel PVC Schedule 80 pipe brands and our molded and fabricated fittings are ideal for numerous applications including chemical delivery systems, potable water systems, water treatment systems, irrigation systems, vacuum lines, and many other industrial applications such as chilled water systems, industrial plating, and chemical drainage systems. GF Harvel also offers various pipe end options including: belled end, gasketed, roll grooved, and threaded as well as custom dimensions and lengths.
Additional Information
MPN
H0800200PG2000
Inventory Type
N1000
Manufacturer
Georg Fischer
Type
Schedule 80 Pipe
Style
Plain End Pipe
Schedule
Schedule 80
a unit of measure
/ 20' pipe
Size (in.)
2
Weight per Foot (lbs. / ft.)
0.984
Length (ft.)
20
Wall Thickness (in.)
0.218
Inner Diameter (in.)
1.913
Outer Diamter (in.)
2.375
Material
PVC
Max Pressure
400 PSI
Maximum Temperature
140° F (60° C)
Minimum Temperature
32° F (0° C)
Color
Gray
Ratings & Standards
ANSI B1.20.1, ANSI B16.5, ASTM D1784, ASTM D1785, ASTM D2464, ASTM D2467, ASTM D2672, ASTM F1498, ASTM F1970, NSF/ANSI 14
Technical Data
Advantages of GF Harvel Pipe
Installation
Physical Properties
Tolerances & Skid Quantites
Engineering Design Data