LS-410-C Link Seal, Carbon Steel
Main image
Click to view image in fullscreen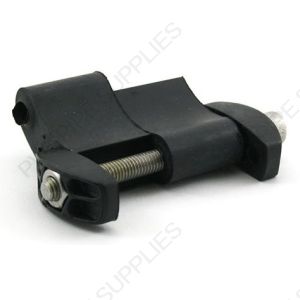 **Important Note** All Link Seals are sold as individual links. Therefore multiple links are required to create a seal around your pipe. Please see the
Link Seal Sizing Chart
in order to determine what size and how many links are required for your application.
The LS-410-C is a modular seal for sealing cylinderical objects through concrete walls. The LS-410-C has Carbon Steel hardware.
Details
LS-410-C Link Seals are designed to provide an easy, fast and affordable way to seal pipes of any size passing through walls, floors and ceilings. The C series comes standard with Carbon Steel nuts and bolts. Link Seals are made with a durable EPDM black rubber material and can handle temperatures that can reach up to 175 degrees F. These seals help to provide a positive hydrostatic seal, extends the life of the seal, saves time and money, protects against corrosion and is ISO approved.
Features and Benefits
Install in up to 75% less time compared to lead-oakum joints, hand-fitted flashings, mastics, or casing boots.
Rated at 20 psig (40ft of head), which exceeds the performance requirements of most applications.
Designed for use as a permanent seal. Seal elements are specially compounded to resist aging and attack from ozone, sunlight, water, and a wide range of chemicals.
Standard fasteners have a two-part zinc dichromate and proprietary corrosion inhibiting coating. Corrosion resistant 316 stainless steel available for maximum corrosion protection.
NSF 61 and Factory Mutual Fire Approved materials available. Also carry a wide variety of approvals from various Federal agencies, associations, code groups, laboratories, and organizations.
Manufactured in an ISO 9001:2000 certified facility.
16 sizes, color-coded EPDM, Nitrile, and Silicone elastomers may be used with various hardware options to match performance characteristics with service conditions.
Specifications
Pressure resistant to 20psig (40 ft of head)
Standard EPDM rubber (black)
Oil Resistant Nitrile rubber (green)
Temperature resistant Silicone rubber (gray)
Low Durometer for fragile pipe EPDM rubber (blue) Shore 40 ± 5
Hardware Options - S316 Stainless Steel and Zinc Dichromate Coated Steel (1470 hr salt spray tested) hardware
Resources
Additional Information
| | |
| --- | --- |
| MPN | LS-410-C |
| Inventory Type | N100 |
| Manufacturer | Link Seal |
| Material | Carbon Steel |
| Seal Material | EPDM |
| Hardware Material | S316 Stainless Steel and Zinc Dichromate Coated Steel |